Former TU star Hamilton enjoying life in pro ball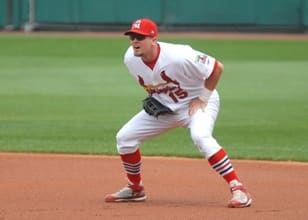 If Mark Hamilton has learned one thing since joining the professional baseball ranks two years ago, it's that those politically correct minor leaguers claiming to take it one game at a time aren't fooling anyone.
"Those thoughts about moving up and your numbers are in every baseball player's mind," said Hamilton, who was a three-year contributor for the Tulane Green Wave from 2004-06. "Guys that say they don't think about it are lying to you."
And while others opt for a different approach, if Hamilton's ascent to Double-A in the St. Louis Cardinals farm system is any indication, his mindset works just fine. The first baseman split his first full season in pro ball in 2007 between Single-A Palm Beach and his current squad, the Springfield Cardinals. Hamilton continued where he left off with Tulane – belting 19 homers and driving in 90 RBIs while boasting a .269 batting average.
The 23-year-old said that the success in 2007 helped prove the transition from college baseball to the minors was not as difficult as one might think – especially when the player comes from an elite program like Tulane.
"You just have to plug away just like you did in college ball," said Hamilton, who connected on 20 homers in his final season with Tulane. "One of the main differences I see is that you really don't have practices. You just practice on game days, which you don't really do as much in college.
"In college you come to the park, take a little early work and go out and play. Here, for a 7 p.m. game, I may be here at 1 p.m. starting to take swings and get a lift in."
This season, Hamilton has struggled throughout the first half of the season – hitting just .241 in 70 games for Springfield. Even more alarming is that Hamilton has struck out 69 times while only recording 59 hits.
But despite plodding through the rough patch this season, Hamilton remains optimistic and points to the distinct improvements in his game since leaving New Orleans. The Texas-native spent his three years with the Green Wave bouncing between first base and the outfield. But after being taken by the Cardinals, Hamilton has concentrated solely on first.
"I kind of knew that defensively I needed to improve," Hamilton said. "I needed to work on my range and my hands. But the sheer amount of practice and work that I get now gave me an enormous jump in my defensively ability."
And just as he knew about the needed improvements in his defensive game, Hamilton quickly became aware of the adjustments needed mentally to survive the rigors of professional baseball. But those changes came easy as a result of his time at Tulane.
"Going to college really helps you prepare for what you will have to deal with in pro ball," Hamilton said. "One of the big things is the adversity in college. You have times where you are fighting for position or you are going through must-win games. Once you get used to that and the pressures you have at a strong Division I program, it makes you a little more aware and a little more ready when you show up to pro baseball."
And despite being removed from the Green Wave for two seasons, Hamilton still reflects fondly on his time at Tulane – with one exception.
"I would have liked to have won the whole thing in '05," he said. "I think we had the team to do it. But if you just watch the College World Series this year and you see a team like Fresno State come out of nowhere and win it, it just makes you realize how hard it is to win in Omaha."